As we grow older, searching for an energy-boosting, anti-aging supplement can become as elusive as looking for the holy grail. One such anti-aging supplement, Tru Niagen, offers scientifically backed claims touting its ability to increase energy and counteract the diseases accompanying becoming older.
But does the supplement really improve your health, or is it just another overpromising concoction of powders and extracts? 
Our comprehensive Tru Niagen review provides you with the impartial truth, accompanied by real user reviews, helping you make an informed decision.
Tru Niagen First Look: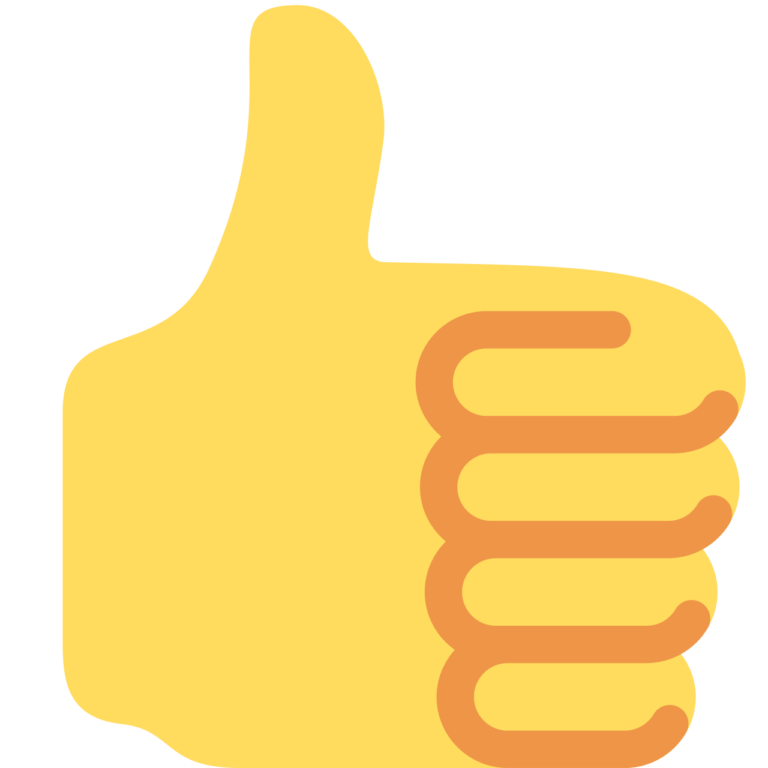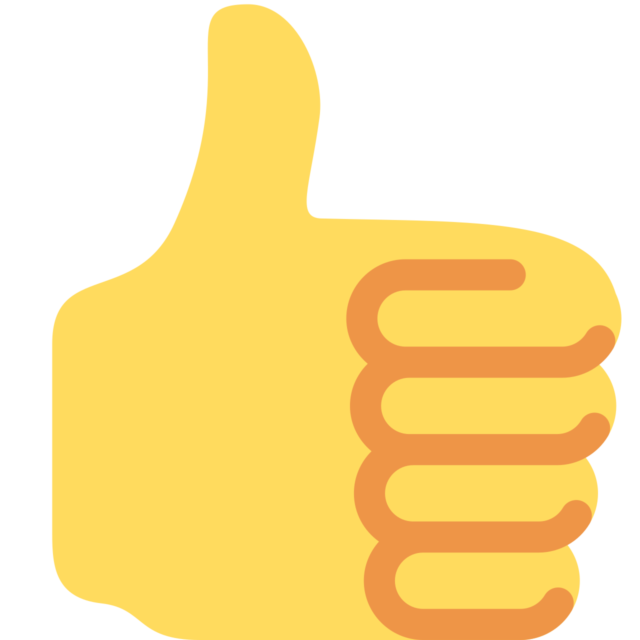 What We like 
Clinical trials of the active ingredient in Tru Niagen have shown it increases NAD levels.

The product has proven health advantages, including anti-aging, improved cellular repair, and increased cellular energy.

Three dosage options make it easy for anyone to use.

It's affordable when compared to other similar supplements.

It increases NAD levels from day one.

It has little to no side effects.

Taking more than the recommended dosage is not harmful.

It is recognized as safe by the FDA.

It's 100% vegan and caffeine, artificial flavor, and color free

Unlike niacin supplements, it does not cause flushing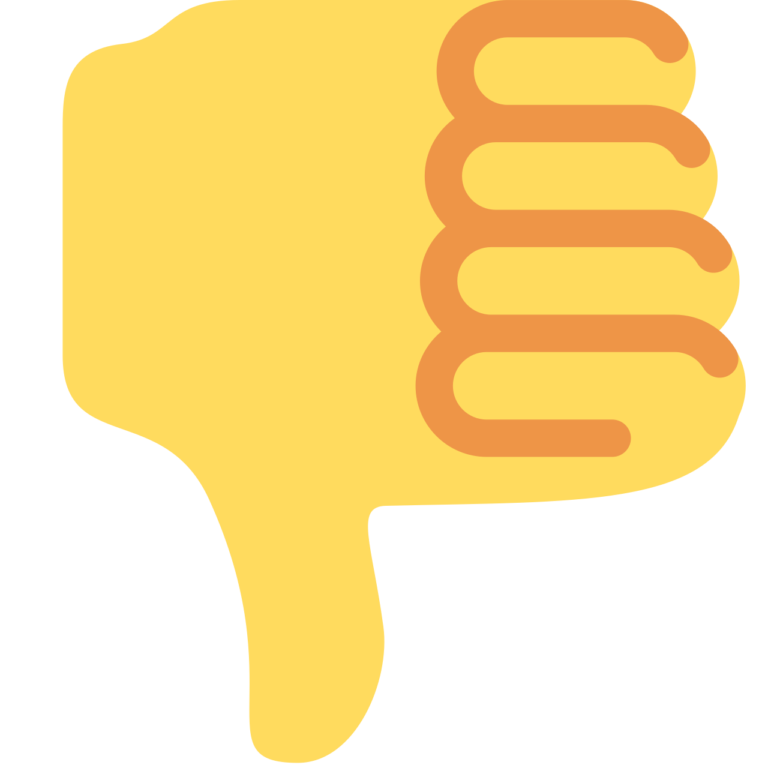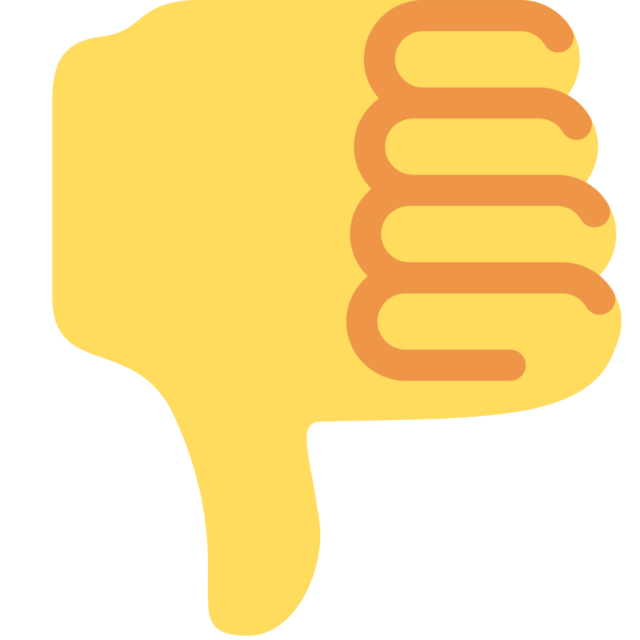 What We Don't Like 
It has a limited, 30-day return policy and won't accept unsealed bottles or cover return delivery fees.

The cheapest way to obtain the supplement is through an auto-renewed subscription service.

It only raises NAD levels for as long as you're taking it.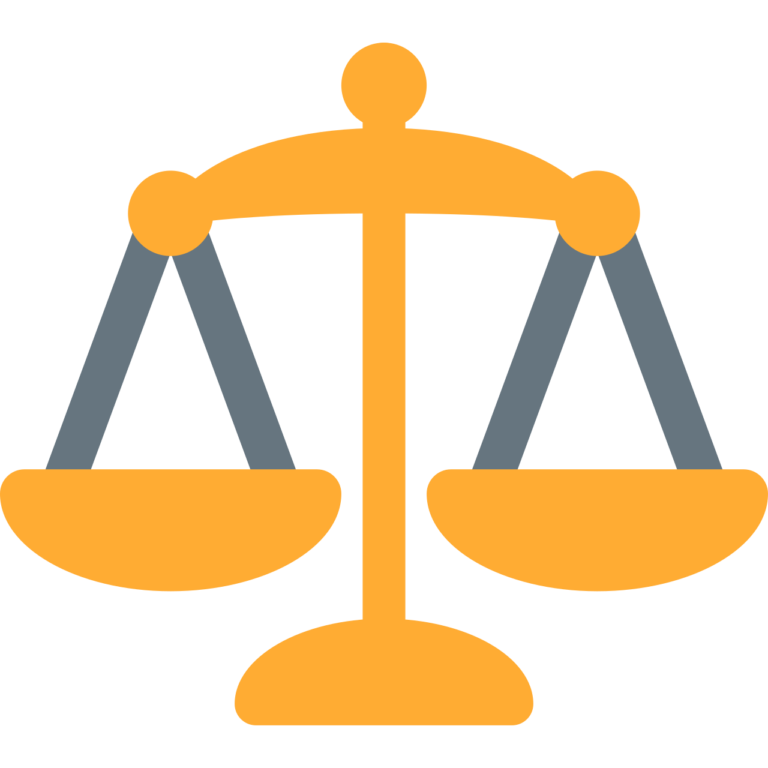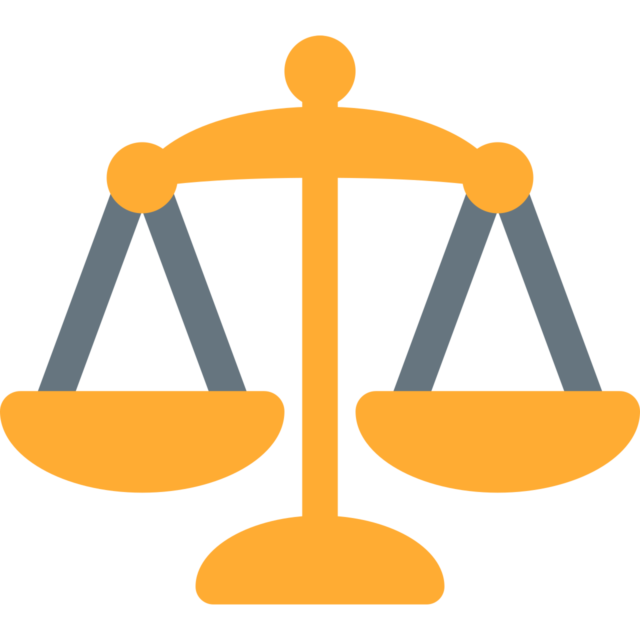 Bottom Line
Tru Niagen works effectively as a trigger for increased NAD production. Compared to other supplements that offer similar benefits, Tru Niagen is not only cheaper but offers fewer side effects overall. 
Despite its general safety, you should always consult your doctor before starting new supplements, especially as they cannot be FDA regulated or approved. 
Check out the latest Tru Niagen prices here. 
What Is Tru Niagen?
Tru Niagen is a dietary supplement aimed at improving your body's nicotinamide adenine dinucleotide (NAD) production.
NAD+, or NAD, is an essential part of the production of energy on a cellular level. It is involved in a range of processes that can affect your overall health, while a NAD deficiency could contribute to accelerated aging and the development of various diseases [1]. 
During cellular respiration, NAD is reduced to form NADH.
Tru Niagen contains a NAD precursor, nicotinamide riboside (NR), which is a form of vitamin B3. NR supplements like Tru Niagen may provide a wide range of health benefits since NR is used by the human body to produce NAD.
What Causes NAD Levels To Drop?
The most significant factor causing a decline in NAD levels is the aging process [2].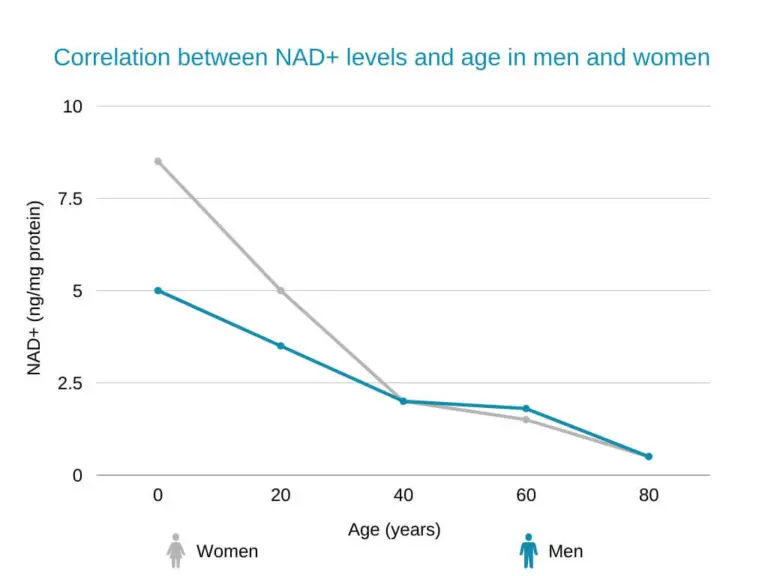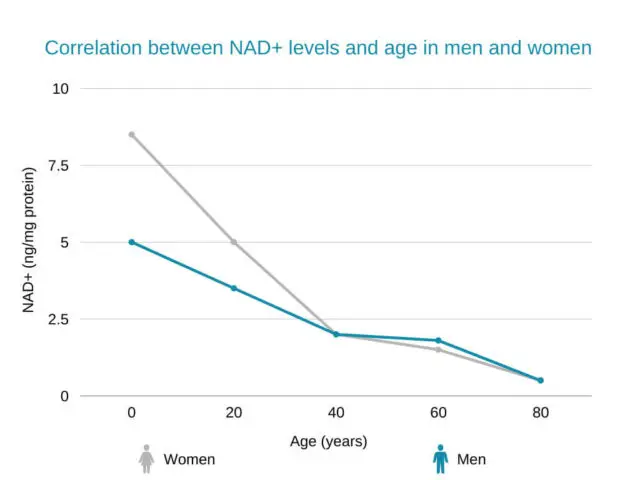 As we grow older, our bodies are put under greater metabolic stress. Accompanied by intense exercise or physical strain, NAD levels can rapidly decline, leading to various adverse effects on your health.
Oxidative stress and the diseases accompanying it, including high blood pressure, diabetes, and obesity, are also associated with reduced concentrations of NAD [3].
What Are the Effects of Low NAD Levels?
The effects of low NAD levels include:
Increased risk of age-related diseases [2]

Low energy levels, or feeling constantly tired

Cognitive decline

Increased risk of cancer development [4]
What Is Tru Niagen Used For?
Taking Tru Niagen could help combat the effects of low NAD levels and metabolic stresses in older adults.
As you age, your body slows its nicotinamide adenine dinucleotide (NAD) production. It also increases the concentration of an enzyme, CD38, that primarily functions to destroy NAD.
Taking Tru Niagen could help raise NAD blood levels and subsequently benefit your body's energy levels, improve cellular function, and provide anti-aging effects. 
Tru Niagen may offer these benefits as it contains a form of nicotinamide riboside (NR). NR is involved in the production of NAD and could help boost its level of concentration in your body. 
What Are the Benefits of Tru Niagen
The supplement claims to offer positive effects like:
Anti-aging benefits and promoting healthy aging [5]
Improvement of cellular health and energy production [6]

More energy

Better cognitive function [7]

Encouraging cellular repair

Reducing the chance of developing certain cancers like liver cancer [8]
Tru Niagen Reviews: What's the Verdict?
As with all dietary supplements, the experience of Tru Niagen's health benefits differs from person to person. 
Below are real reviews from Tru Niagen users on the effects of the NAD supplement on their health.
Ryan praises the anti-aging effects of Tru Niagen, writing:


While an elderly male reports an increase in energy and a general feeling of wellbeing;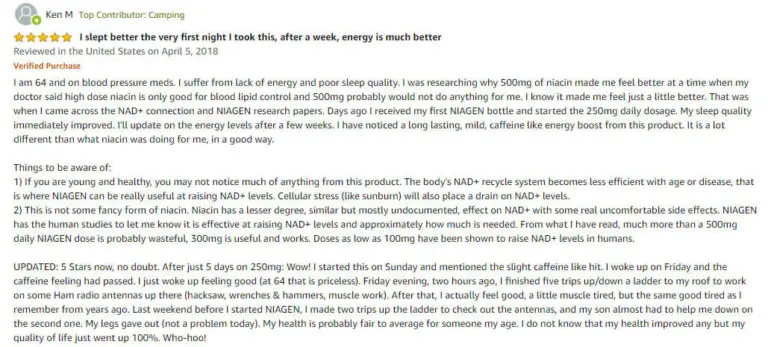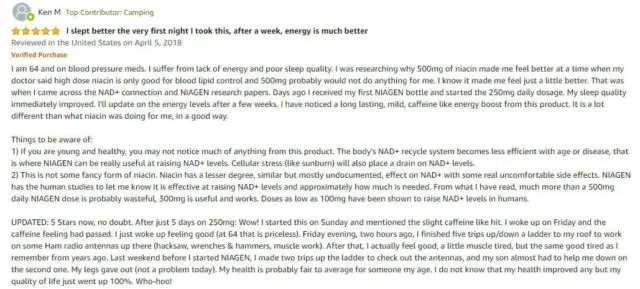 Some, like this reviewer, already live healthy lifestyles and struggle to feel the effects of Tru Niagen.

Others, like the two reviewers below, experienced no positive effects and eventually discontinued their use of the supplement.




No supplement can offer an all-powerful solution to aging or reduced energy. Still, for many, Tru Niagen provides an extra, much-needed boost to correct their habits and experience the full benefits of elevated NAD levels.
Tru Niagen Ingredients
Tru Niagen contains a single active ingredient responsible for all health outcomes from taking the supplement. That one ingredient is a crystalline powder of nicotinamide riboside chloride (NR chloride) called Niagen.
NR chloride is the crystallized salt version of nicotinamide riboside (NR), a form of vitamin B3 and a NAD precursor [6]. 
NR is relatively unknown outside the scientific community but can improve insulin sensitivity, enhance exercise performance, and combat the adverse effects of a high-fat diet [9].
Not only has NR chloride been reported safe by the scientific community, but therapeutic doses of the supplement increase NAD levels and with it energy and cellular health, encouraging healthy aging and the reproduction and longevity of healthy cells [10].
Other inactive ingredients of Tru Niagen include vegetarian cellulose and hypromellose used to produce the capsules in which the Niagen powder is packaged.
Tru Niagen is also gluten and caffeine-free and contains no artificial flavors, colors, or animal by-products, making it suitable for almost anyone to use. 
How To Take Tru Niagen
Tru Niagen capsules come in either a 300 mg or 150 mg form. There is no difference in ingredients; the 150 mg capsules are simply easier for some people to swallow.  
Tru Niagen stick packs can be mixed with a beverage if capsules aren't tolerated.
Tru Niagen Dosage
The recommended dose of Niagen is 250-300mg daily. With this in mind, you should either take one 300 mg capsule or two capsules of the 150 mg version daily. 
There are no recommendations for when you should take the supplement, although some reviewers notice they sleep better if they take it first thing in the morning and not late in the afternoon.
What Are the Side Effects of Tru Niagen?
As with any supplement, taking Tru Niagen may produce some side effects that vary in severity from person to person. 
As there are no artificial flavors or colorants in Tru Niagen and the supplement is 100% caffeine-free, the few side effects are only due to the nicotinamide riboside chloride. Even large doses of NR have been shown to produce no adverse effects [11].
The possible side effects of Tru Niagen include [10]: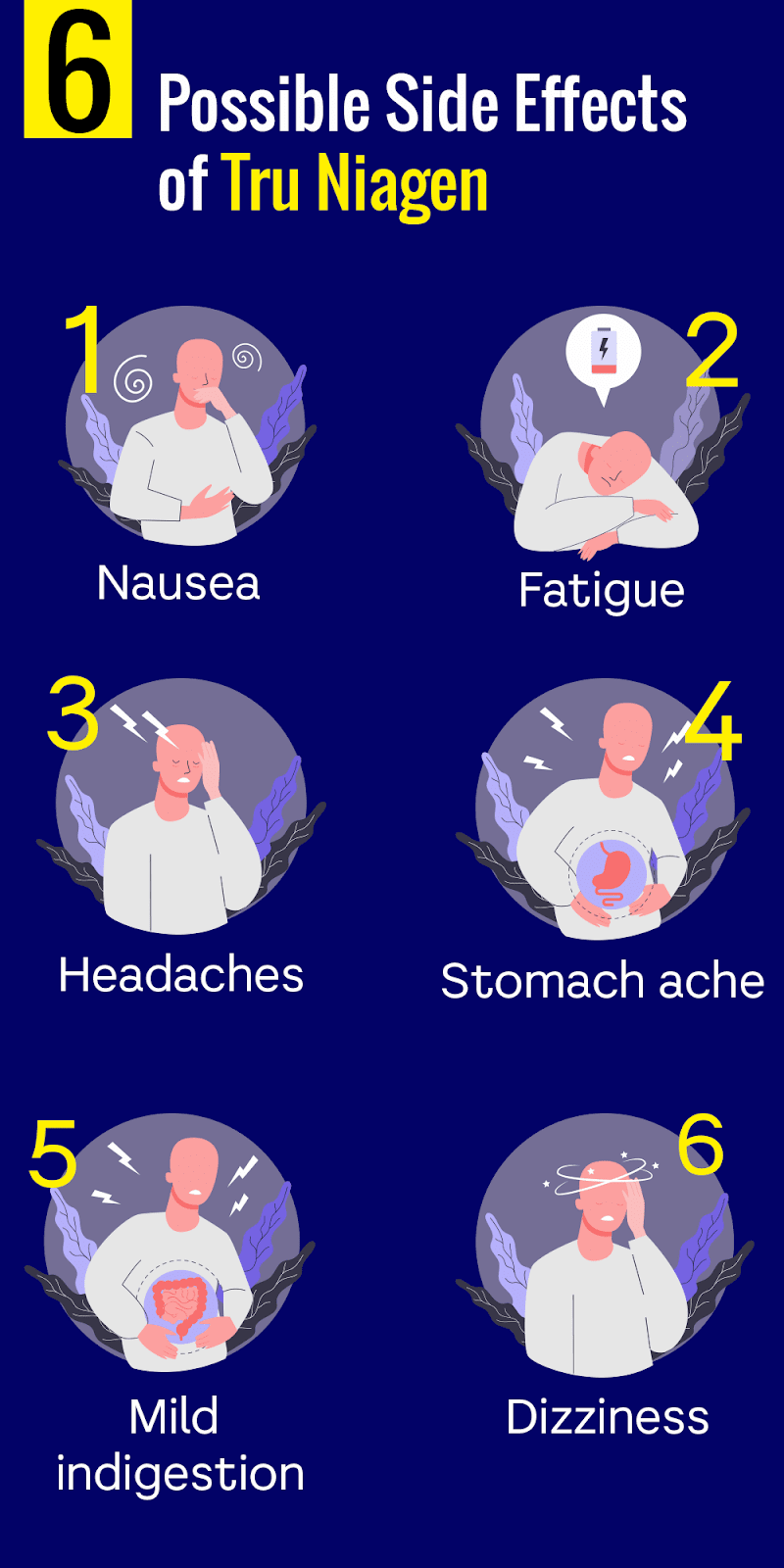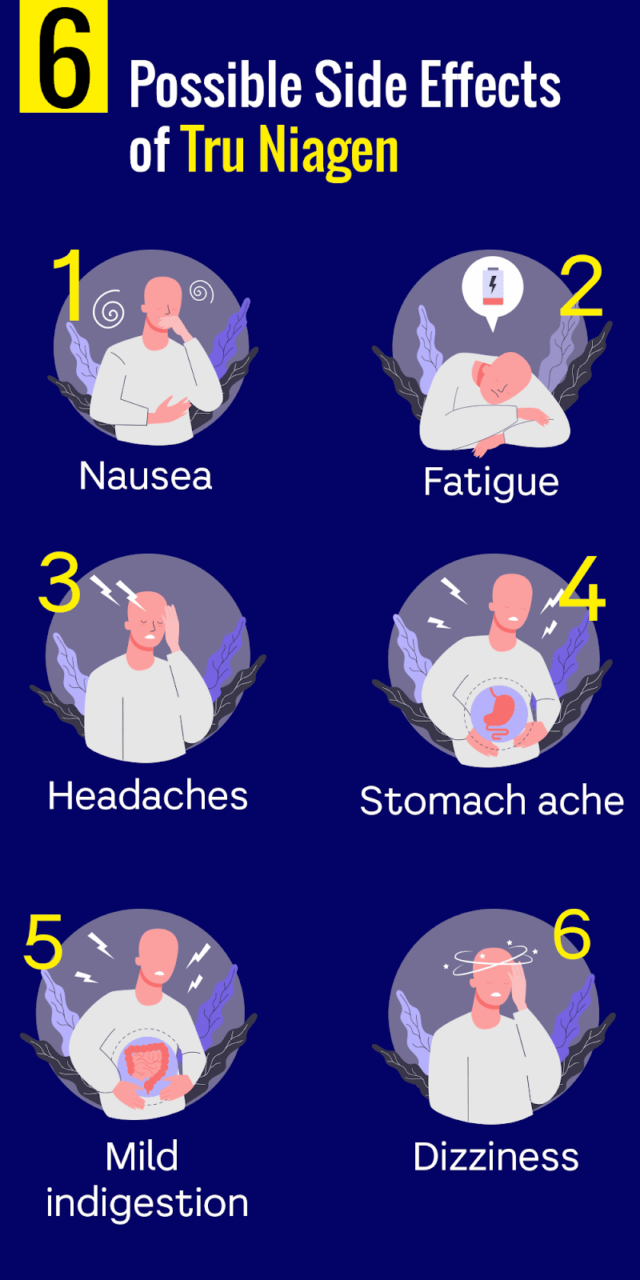 Nausea

Fatigue

Headaches

Stomach ache

Mild indigestion

Dizziness
Unlike other vitamin B3 (niacin) supplements, Tru Niagen does not cause flushing, and it is worth noting the majority of the above-listed side effects manifested only when NR was taken on an empty stomach. 
There is some argument, then, for taking Tru Niagen with or after meals.
Is Tru Niagen Safe?
Tru Niagen is a dietary supplement and can therefore not be classified as a drug but instead as a food. Due to this, Tru Niagen is not approved by the Food and Drug Administration, although it is labeled Generally Recognized as Safe (GRAS) by the FDA.
Long-term effects of Niagen administration on overweight adults have also shown the supplement as safe when taken at the recommended dosage. However, no negative effects have been recorded even when higher doses are taken [12].
Tru Niagen Pros and Cons
Regardless of the relative lack of side effects, many people are still unsure whether the advantages of taking Tru Niagen outweigh the possible disadvantages. Below is a summary of the most significant pros and cons of the supplement to help you decide. 
Pros
NR chloride is proven to increase NAD levels, thereby increasing cellular energy and providing a variety of health benefits [10]

Assists healthy aging and energy production

Recognized as safe by the FDA

100% vegan

Free of caffeine and artificial flavoring

It does not cause flushing

Defends against metabolic and oxidative stress

Capsules are easy to take

Available in powder form
Cons
Could produce mild side effects if taken at very high doses or on an empty stomach

NAD concentration only remain raised for as long as you use the supplement

It may take time to see visible results

Only offers a limited return policy
Where Can I Buy Niagen?
You can buy Tru Niagen supplements from various online stores, including the official website or Amazon. 
Although many supplements offer ingredients similar to Tru Niagen, taking Niagen from these unofficial sources cannot guarantee the same effects or lack of side effects.
How Much Does Tru Niagen Cost?
Tru Niagen supplements come in three different forms, each with its own price range.
Tru Niagen 150mg
Tru Niagen 150 mg costs $87.95 for 120 capsules, which last for two months of daily use. 
The 150 mg capsules are made for those who can't take larger pills. Instead of taking one, a daily dose consists of two capsules either taken together or separately during the day.
Tru Niagen 300mg 
Tru Niagen 300 mg is sold in 30, 90, or 180 count batches, lasting for one, three, or six months respectively.
The prices are as follows:
30 count:

$47.00

90 count:

$141.00

180 count:

$198.00
The 300 mg capsules are larger than the 150 mg alternative but are easier to take as you only need one pill a day. 
Tru Niagen Stick Packs
The Tru Niagen stick packs are an easy alternative to taking pills. Simply mix one sachet daily with a beverage of your choice. 
Each stick pack contains 300 mg of NR chloride, and there 30 servings per container.
A box of 30 stick packs costs $54.00
Tru Niagen stick packs also contain inulin in chicory root—a good source of fiber and may help reduce appetite [13].
Does Tru Niagen Have a Money Back Guarantee?
Tru Niagen has a limited return policy requiring unused, factory-sealed bottles to return to their center in California.
The bottles must be returned within 30 days, and the customer must cover shipping to qualify for a refund. 
Any unsealed or partially used bottles of Tru Niagen will not be eligible for a refund.
FAQ
Below are the answers to some of the most frequently asked questions about Tru Niagen and its ingredients.
Is Tru Niagen a Hoax?
No, Tru Niagen is not a hoax. 
Several clinical trials and human studies conducted independently and by Tru Niagen have proven that nicotinamide riboside raises NAD levels in the human body [14]. 
Does Niagen Really Work?
Taking Tru Niagen has been proven to raise NAD concentrations [15]. 
Combating an age or lifestyle-related NAD deficiency using an effective supplement like Tru Niagen can provide a range of benefits to the health of your body and brain.
If you're looking to boost libido, increase testosterone, and improve vitality, Nugenix is another product that also helps combat aging, especially in men. You can find out more about the supplement in our Nugenix review.
How Long Does It Take for Tru Niagen to Work?
According to the manufacturers, you should be able to see and feel results within a few weeks after beginning to take Tru Niagen.
Although the supplement starts to raise your NAD levels after the first serving, many people don't immediately feel its effects. Others quickly notice an improvement in their energy levels and sleep quality. 
Most Tru Niagen users first experience the full range of benefits from the supplement after a month of consistent use. 
After finishing your first bottle of Tru Niagen and you starting your second, you should experience an energy boost and a rapid improvement in your quality of life. 
Unlike other anti-aging supplements, Tru Niagen works on a cellular level to combat the effects of aging and may not have as much of a visible impact as it improves your overall well-being. 
What Is Niagen ChromaDex?
ChromaDex is the parent company of Tru Niagen. It has sponsored various clinical trials on the effects of NR chloride and elevated NAD concentration on the body. 
The company started what we now know as Niagen, and the Tru Niagen supplements were its flagship range of products.
Is Tru Niagen FDA Approved?
As Tru Niagen is a supplement, it cannot be approved by the Food and Drug Administration. Despite lacking FDA approval, similarly to almost all-natural supplements, Tru Niagen has been granted Generally Recognized as Safe (GRAS) status. 
It is classified by the FDA as safe for consumption, with little to no side effects. 
Is Tru Niagen's ChromaDex a Trustworthy Company?
ChromaDex was founded in 1999 and has since been part of at least ten clinical studies, some independent, some funded by ChromaDex. 
The company and the ingredients in its leading supplement, Tru Niagen, are recognized and approved for sale in Australia, the US, Canada, Europe, and many other regions. The supplement and the company are generally seen as safe and trustworthy.  
Is Tru Niagen Better Than Basis NR?
ChromaDex and Elysium, who manufacture Tru Niagen and Basis, respectively, have been locked in a lawsuit over the patent of nicotinamide riboside. 
Both supplements contain NR, but Basis has an additional ingredient, pterostilbene. 
Pterostilbene is a dietary compound occurring naturally in blueberries. It has antioxidant and anti-inflammatory effects but also produces a range of side effects [16]. 
If taken at too high a dose, the following adverse effects may occur [17]: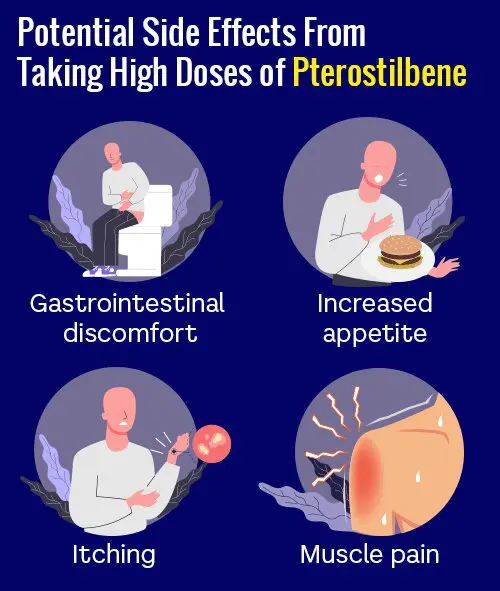 Gastrointestinal discomfort

Increased appetite

Itching

Muscle pain
How Much Does Tru Niagen Shipping Cost?
Shipping is free inside the United States.
Can I Take More Tru Niagen for Faster or Better Results?
Studies have shown that using up to 1000 mg of NR a day increased blood concentration of NAD by 142% [14]. 
Therefore, it is possible to raise NAD faster by taking more Tru Niagen capsules each day. However, this may cause more or stronger side effects that could eventually discourage use and is, therefore, not recommended.
Conclusion
With all the miracle pills on the market, it can be challenging to find an anti-aging, energy-boosting supplement that actually helps you stay healthy. 
Thankfully, Tru Niagen is backed by years of human trials and studies that prove it helps increase NAD levels and may just help you get back that spring in your step. 
Even if it falls short of your greatest expectations, the supplement still offers a variety of benefits that will improve your overall health and well-being, whether visible or not.
References:
W;, Zhang M;Ying. "NAD + Deficiency Is a Common Central Pathological Factor of a Number of Diseases and Aging: Mechanisms and Therapeutic Implications." Antioxidants & Redox Signaling, U.S. National Library of Medicine, pubmed.ncbi.nlm.nih.gov/29295624/.

Schultz, Michael B, and David A Sinclair. "Why NAD(+) Declines during Aging: It's Destroyed." Cell Metabolism, U.S. National Library of Medicine, 14 June 2016, www.ncbi.nlm.nih.gov/pmc/articles/PMC5088772/.

Giacco, Ferdinando, and Michael Brownlee. "Oxidative Stress and Diabetic Complications."

Circulation Research

, U.S. National Library of Medicine, 29 Oct. 2010, www.ncbi.nlm.nih.gov/pmc/articles/PMC2996922/. 

E;, Covarrubias AJ;Perrone R;Grozio A;Verdin. "NAD + Metabolism and Its Roles in Cellular Processes during Ageing." Nature Reviews. Molecular Cell Biology, U.S. National Library of Medicine, pubmed.ncbi.nlm.nih.gov/33353981/.

Y;, Braidy N;Liu. "NAD+ Therapy in Age-Related Degenerative Disorders: A Benefit/Risk Analysis." Experimental Gerontology, U.S. National Library of Medicine, pubmed.ncbi.nlm.nih.gov/31917996/

AA;, Li W;Sauve. "NAD⁺ Content and Its Role in Mitochondria." Methods in Molecular Biology (Clifton, N.J.), U.S. National Library of Medicine, pubmed.ncbi.nlm.nih.gov/25308486/.

Rennie G;Chen AC;Dhillon H;Vardy J;Damian DL; "Nicotinamide and Neurocognitive Function." Nutritional Neuroscience, U.S. National Library of Medicine, pubmed.ncbi.nlm.nih.gov/24559077/.

SJ;, Griffiths HBS;Williams C;King SJ;Allison. "Nicotinamide Adenine Dinucleotide (NAD+): Essential Redox Metabolite, Co-Substrate and an Anti-Cancer and Anti-Ageing Therapeutic Target." Biochemical Society Transactions, U.S. National Library of Medicine, pubmed.ncbi.nlm.nih.gov/32573651/.

Mehmel, Mario, et al. "Nicotinamide Riboside-The Current State of Research and Therapeutic Uses." Nutrients, MDPI, 31 May 2020, www.ncbi.nlm.nih.gov/pmc/articles/PMC7352172/.

Martens, Christopher R, et al. "Chronic Nicotinamide Riboside Supplementation Is Well-Tolerated and Elevates NAD+ in Healthy Middle-Aged and Older Adults." Nature Communications, Nature Publishing Group UK, 29 Mar. 2018, www.ncbi.nlm.nih.gov/pmc/articles/PMC5876407/.

Airhart SE;Shireman LM;Risler LJ;Anderson GD;Nagana Gowda GA;Raftery D;Tian R;Shen DD;O'Brien KD; "An Open-Label, Non-Randomized Study of the Pharmacokinetics of the Nutritional Supplement Nicotinamide Riboside (NR) and Its Effects on Blood NAD+ Levels in Healthy Volunteers." PloS One, U.S. National Library of Medicine, pubmed.ncbi.nlm.nih.gov/29211728/.

CL;, Conze D;Brenner C;Kruger. "Safety and Metabolism of Long-Term Administration of NIAGEN (Nicotinamide Riboside Chloride) in a Randomized, Double-Blind, Placebo-Controlled Clinical Trial of Healthy Overweight Adults." Scientific Reports, U.S. National Library of Medicine, pubmed.ncbi.nlm.nih.gov/31278280/.

Fouré M;Dugardin C;Foligné B;Hance P;Cadalen T;Delcourt A;Taminiau B;Daube G;Ravallec R;Cudennec B;Hilbert JL;Lucau-Danila A; "Chicory Roots for Prebiotics and Appetite Regulation: A Pilot Study in Mice." Journal of Agricultural and Food Chemistry, U.S. National Library of Medicine, pubmed.ncbi.nlm.nih.gov/29873488/.

Conze, Dietrich, et al. "Safety and Metabolism of Long-Term Administration of NIAGEN (Nicotinamide Riboside Chloride) in a Randomized, Double-Blind, Placebo-Controlled Clinical Trial of Healthy Overweight Adults." Scientific Reports, Nature Publishing Group UK, 5 July 2019, www.ncbi.nlm.nih.gov/pmc/articles/PMC6611812/.

Remie CME;Roumans KHM;Moonen MPB;Connell NJ;Havekes B;Mevenkamp J;Lindeboom L;de Wit VHW;van de Weijer T;Aarts SABM;Lutgens E;Schomakers BV;Elfrink HL;Zapata-Pérez R;Houtkooper RH;Auwerx J;Hoeks J;Schrauwen-Hinderling VB;Phielix E;Schrauwen P; "Nicotinamide Riboside Supplementation Alters Body Composition and Skeletal Muscle Acetylcarnitine Concentrations in Healthy Obese Humans." The American Journal of Clinical Nutrition, U.S. National Library of Medicine, pubmed.ncbi.nlm.nih.gov/32320006/.

McCormack, Denise, and David McFadden. "A Review of Pterostilbene Antioxidant Activity and Disease Modification." Oxidative Medicine and Cellular Longevity, Hindawi Publishing Corporation, 2013, www.ncbi.nlm.nih.gov/pmc/articles/PMC3649683/.

Riche, Daniel M., et al. "Analysis of Safety from a Human Clinical Trial with Pterostilbene." Journal of Toxicology, Hindawi, 4 Feb. 2013, www.hindawi.com/journals/jt/2013/463595/.